Bulk Bag Fillers
Flexicon bulk bag fillers (also known as FIBC fillers) range from basic stand-alone units to sophisticated systems to match the budget and capacity requirements of each customer's application. Each of these configurations delivers optimum performance across specific capacity ranges with maximum cost-effectiveness.
Twin-Centerpost Bulk Bag Filler
Flexicon's patented TWIN-CENTERPOSTTM fillers satisfy low- to medium-capacity filling requirements and/or sanitary applications where frequent wash-down or compliance with USDA Dairy standards is required.
Basic Bulk Bag Filler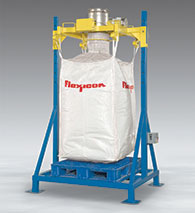 Lighter-duty versions of TWIN-CENTERPOSTTM fillers, BASIC FILLERS reduce cost, yet offer an inflatable bag spout seal and feed chute dust vent as standard, and a limited list of performance options.
Swing-Down Bulk Bag Filler
Flexicon's latest bulk bag filling innovation is the patent-pending SWING-DOWN ®filler . Designed for medium- to high-capacity applications, this revolutionary design brings the fill head to the operator at floor level for faster, safer and easier bag connections.
Rear-Post Bulk Bag Filler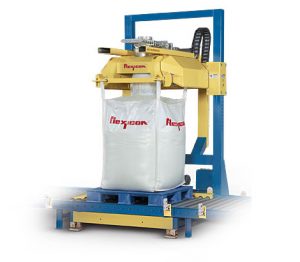 REAR-POST fillers are intended for medium- to high-capacity applications requiring pass-through conveyors and/or powered fill head height adjustment.
Bulk Bag Dischargers
Flexicon BULK-OUT® Bulk Bag Dischargers, also referred to as bulk bag unloaders, FIBC unloaders, and FIBC dischargers, are offered in numerous frame configurations, the two most popular of which are: BFF Series dischargers with bag lifting frame for forklift loading and unloading of bulk bags (FIBCs), and BFC Series dischargers with cantilevered I-beam, electric hoist and trolley for loading and unloading of bulk bags without the use of a forklift.
Bulk-Out BFF Bulk Bag Discharger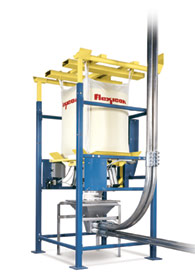 Bulk-Out BFC Bulk Bag Discharger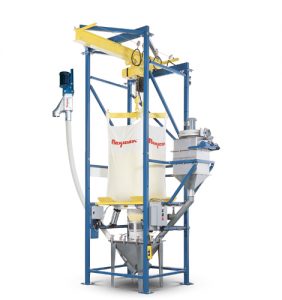 Bulk-Out Half Frame Bulk Bag Discharger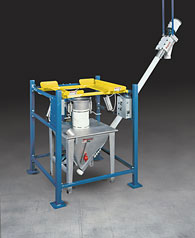 Other bulk bag unloader configurations include split frames for forklift loading of bags in low headroom areas, half frames for suspending bags during discharge using a forklift, hoistable frames for lifting the entire bulk bag discharger using an overhead crane, continuous loss-of-weight dischargers for uninterrupted feeding directly from bulk bags, and other designs satisfying highly specialized requirements.
3,356 total views, 1 views today