Flexible Screw Conveyors
Flexicon flexible screw conveyors (also known as helix conveyors, screw conveyors, spiral conveyors, and auger conveyors) offer efficiency and versatility, conveying bulk materials ranging from large pellets to sub-micron powders—both free-flowing and non-free-flowing—with no separation of blended products.
Sanitary Mobile Flexible Screw Conveyor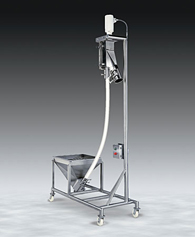 This Mobile Flexible Screw Conveyor (also known as a helix conveyor, screw conveyor, spiral conveyor or auger conveyor) consists of an 8 cubic foot (226 liter) hopper feeding a 3.5 inch (90mm) diameter flexible screw conveyor supported by a tubular frame on casters. Designed, constructed and finished to 3A Dairy Accepted standards, the conveyor transports bulk ingredients ranging from sub-micron powders to large pellets.
More Info:
All Flexicon flexible screw conveyors are available on caster-mounted frames with conveyor support masts for in-plant mobility, reducing the need for multiple stationary units.
Stationary units are also available, as well as larger units for high capacity applications.
Typical Routing for Flexible Screw Conveyors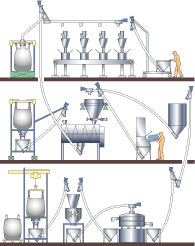 4,716 total views, 1 views today