Light Duty Belt Conveyors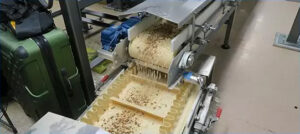 Belt Conveyors
Gough Econ's belt conveyors combine exceptional design and construction for an unparalleled material handling solution. Our range of belt conveyors is designed to provide increased efficiency and a versatile means of handling a wide variety of products and materials. Conveyor options include Flat and Slider Belt Conveyors, Incline Conveyors, Flighted Belt Conveyors and Troughed Belt Conveyors. In addition to these selections, we can custom design a belt conveyor to meet your unique handling needs.

storage Conveyors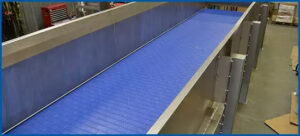 Storage Conveyors
Gough Econ's storage conveyors ensure the safe and reliable handling of your materials from initial product introduction into your process to finished product packaging. Our storage conveyors operate as a buffer between various points of your process by regulating product flow resulting from varying production rates or in the event of equipment shutdowns. These auxiliary conveyors can be paired with our other material handling equipment to deliver a complete integrated system suited to your needs.

Heavy duty belt conveyors
Heavy duty belt conveyors
Belt conveyors are the most economical method of transporting bulk materials over both short and long distances. Belt conveyors are ideal for conveying bulk materials of large lump size since the bulk materials stay stationary on the belt. The layout of your plant can be simplified and made more efficient with the use of belt conveyors.
Advantages of Using Belt Conveyors
Ideal For Conveying A Wide Variety Of Bulk Materials – From Sluggish To Free Flowing And Small To Large Lump Size
Able To Handle Large Conveying Capacities – Up To 50,000 Cubic Feet Per Hour
Can Be Used To Convey Bulk Materials Horizontally Or On An Incline
Horsepower Requirements Are Much Lower When Compared To Other Types Of Conveyors