Conveyor Belt Scales
Tecweigh manufactures electronic conveyor belt scales in single, dual and four idler configurations that are easy to use, dependable and provide top performance at a great value. Our scales feature self-storing calibration weights, user-friendly weight processors and the longest warranty in the business.
Tecweigh WY-10 Single Idler Conveyor Scale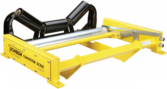 The scale that started it all, and still going strong, the WY10 is the most robust scale on the market today. Nearly impossible to overload, the WY10 is the first choice for primary crushers, extreme loading and/or large particle sizes.
Tecweigh HY15 Hybrid Belt Scale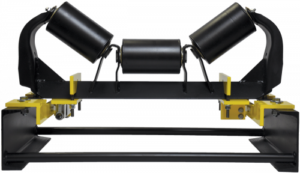 The HY15 Hybrid Belt Scale was designed to incorporate the tried-and-true Tecweigh electronics package with the less costly modular scale frame design. The compact, low-profile design is suitable for many conveyor applications (including mobile units). Made with heavy-duty cold rolled steel, the HY15 will withstand the harshest environments.
Tecweigh WY-15 Single Idler Conveyor Scale

The WY15 utilizes strain gauge load cell technology to extend the range of its tougher big brother. It is the perfect scale for light belt loading applications as well as high tonnages of smooth-running materials.
Tecweigh GenTec Generator Wheel

The GenTec Generator Wheel provides power to your Tecweigh belt scales, processors and radios for a wireless, green power alternative.
Tecweigh WF-10 Belt Feeder

Considered Tecweigh's most standard duty model, the WF-10 fits most applications ranging from 2000 pounds per hour up to 200 tons per hour. Other size models are also available.
Tecweigh WF-18 Belt Feeder

The Tecweigh WF-18 is a stainless steel, food-grade weigh belt feeder for precise weighing, blending and metering.