Building Bulk Material Handling Solutions Since 2003
Since 2003, customers have chosen Erie Technical Systems for three primary reasons — personalization, professionalism, and precision. On these three pillars, we have built a business that has stood the test of time through recessions and economic ups and downs. Now blessed with an expansive 50,000-square-foot manufacturing facility, we are well-positioned to handle your dry bulk handling needs now and in the future
FLEXIBLE SCREW CONVEYORS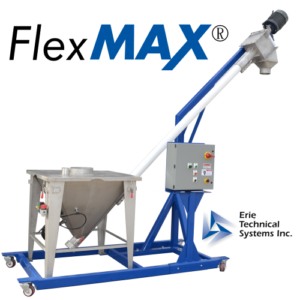 LOW-COST SCREW CONVEYORS FOR QUICK DELIVERY
The FlexMAX® family of flexible screw conveyors manufactured by Erie Technical Systems Inc. provides a rugged and reliable way to feed a variety of bulk materials. Our flexible screw conveyors come standard with an inlet hopper, screw casing, helical screw, discharge head, and a motor with a gear reducer. The bulk material is transferred up or along the casing by the rotating flexible screw. Our flexible screw conveyors are commonly used with our UltiMAXTM bulk bag unloaders, bag break stations, or large storage hoppers.
Hoppers feature true 60o feed hopper sides and FASTFLO rounded corners eliminating product hold up
Low-cost and versatile
Add-on options for a custom machine
A flexible tube that allows routing around fixed objects
Dust-tight, completely enclosed
Low maintenance with only one moving part
Simple disassembly for easy cleaning
3″, 4″, 5″ and 6″ nominal sizes for a wide range of flow rates
Feed at rates up to 450 cubic feet/hour in conveyor lengths up to 40 feet
Product contact surfaces are 304SS and UHMWPE
BULK BAG UNLOADERS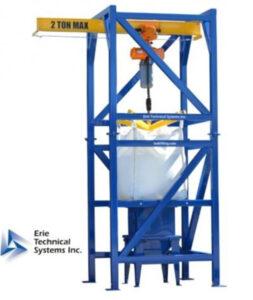 MANUAL AND AUTOMATIC OPTIONS
Erie Technical Systems UltiMAX™ Bulk Bag Unloaders are designed to manually or automatically unload bulk bags. Our Bulk Bag Unloaders, also known as Bulk Bag Dischargers safely support bulk bags with a lifting frame. The frame can be used with a forklift or an optional hoist and trolley system. Once the bulk bag is in place, the operator can untie the bottom bag spout in a dust-tight environment. Flow out of the bag can then be controlled either manually or automatically. The UltiMAX™ bulk bag unloader can be paired with Erie Technical Systems FlexMAX® flexible screw conveyor, ValuMAX®, or a vibratory feederto create a system to meet the specifications of each application.
BULK BAG FILLERS & PALLET DISPENSERS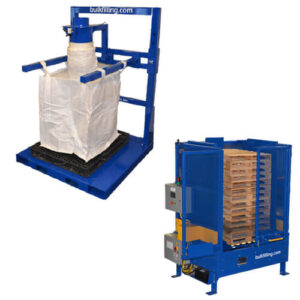 The DustMAX™ bulk bag filler from Erie Technical Systems Inc. is a low-cost and simple bulk bag filler designed and manufactured using our typical heavy-duty structural steel construction. The DustMAX™ bulk bag filling unit is used for low packaging rates where bag change is infrequent. Units can be provided for indoor or outdoor bulk bag filling applications. Although the DustMAX™ bulk bag filler is intended as a low-cost unit, many manual options are available for our bulk bag filling equipment such as an integral weigh scale, pneumatic or electric slide gate valve, and a product surge hopper. Please contact us today for a quote on a DustMAX™ bulk bag filler.
For higher throughput automatic and semi-automatic bag filling equipment, please consider our DensiMAX™, ValuMAX­®, or SysteMAX™ bulk bag filling equipment.
BAG BREAK STATIONS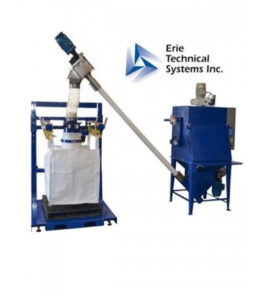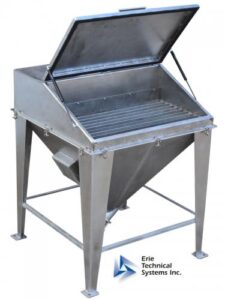 Erie Technical Systems Inc. manufactures bag break stations for the unloading of small 25 to 100-pound bags. Our bag break stations are designed for the most demanding and dusty environments. The powerful dust collection system minimizes airborne particles and eliminates operator exposure to harsh or hazardous powders. The dust collection system is designed to be self-cleaning using reverse pulse jets to dislodge material captured by the HEPA filters. Dust collection is triggered automatically anytime the access door is open. Standard units are available in carbon or stainless steel construction. Standard features include fast-flow rounded hopper corners, a convenient working height, and a collapsable slitting shelf. Additional standard options for the bag break station include an outlet rotary valve, a FlexMAX® flexible screw conveyor. For materials that set up in transit or are not free-flowing, Erie Technical Systems can integrate a de-lumper, aeration pads, or a rotary electric bin vibrator. Our standard designs cover most common applications but custom geometry and design support are also available.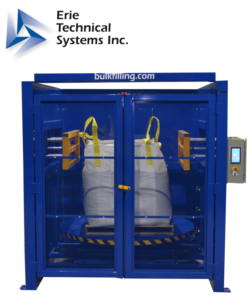 Erie Technical Systems manufactures bulk bag conditioners that allow for discharging of materials that have been set up in bulk bags. Materials that are hygroscopic and solidify can be a challenge to discharge if not properly conditioned before being placed in an UltiMAX™ bulk bag discharger. These bulk bag conditioners use hydraulic rams to break up the material in the bag.
FEATURES OF OUR BULK BAG CONDITIONERS INCLUDE:
Bag Sizes from 35″ x 35″ up to 48″ x 48″
Hydraulically driven rams
Scissor lift to allow for multi-position compression
Optional rotary table
PLC Control & fully automatic cycle
CONTAINER DUMPERS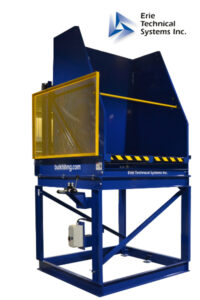 EMPTY BULK MATERIAL FROM LARGE BOXES, DRUMS AND BINS EASILY AND SAFELY
The bulk container dumper is also known as box dumper, bin dumper, and drum dumper. It is designed to hydraulically lift and dump a bulk container from the floor to a specified height. Erie Technical Systems offers both floor level and lift to dump (skip hoist) models. The dumper comes complete with container hold-downs and a heavy-duty receiver along with the base frame and manual controls.
STATION FEATURES:
Heavy-duty structural steel construction
Industrial polyurethane, food-grade paint
Custom sizes available
Hydraulically operated
CONTAINER DUMPING STATION OPTIONS:
Funnel lids with or without valves
Discharge chutes
Lift and dump (skip hoist) models
Stainless steel construction
Lift to seal design (seals container against funnel top for dispensing partial containers)