Connectors, Tubing, Sleeves, Balls, Fittings
BFM Flexible Connectors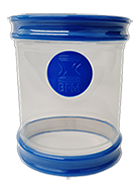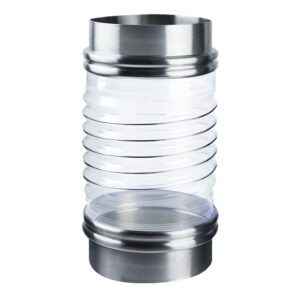 Improve your process sanitation and reduce connector changeout times by switching to BFM® fittings.

Spigots available in Stainless Steel T304L and T316L , as well as C22 Hastelloy. They are available in a range of exact sizes, eliminating the imprecise nature of hose-clamp sleeve type connection widths and ensuring a perfect fit with the BFM® fitting connector.
Clear-Flex SDX Tubing /Connectors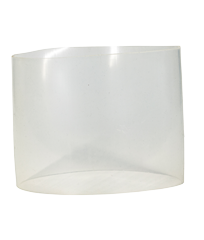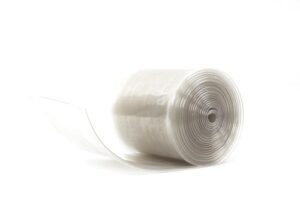 Clear-Flex SDX is the safest, most rigorously tested, and certified polyurethane film product available anywhere. Clear-Flex SDX is the pioneer in food-safe static dissipative polyurethane film for powder and bulk solid processing.
Siftsox Connectors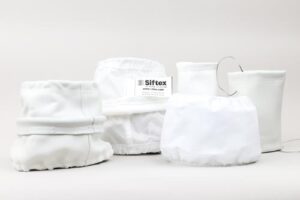 Polyurethane: White 9 mil polyurethane laminated polyester fabric is very soft to touch, waterproof, and lightweight for loss-in weight applications.

Nylon: White, pliable, two-way stretch sleeve material for constantly flexing applications. Very good abrasion and tear resistance for direct food contact.

Siftex provides fabric connectors that can be sewn into virtually unlimited shapes, designs, and materials. If you can design it, we can sew it!
White Seamless Tubing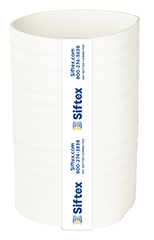 The right rubber compound makes all the difference in durability and wear. Siftex is the industry-proven source for both FDA and non-FDA rubber compounds. With hundreds of mandrel sizes in stock, Siftex has the flexibility to provide seamless rubber tubing designed for your specific applications.
X-Spy Metal Detectable Connectors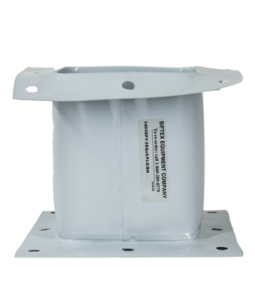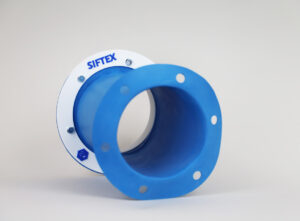 X-Spy is a proprietary group of polyurethane and rubber compounds used for flexible connecting sleeves, seamless rubber tubing, screen cleaning balls, film/sheet goods, conveyor belting, and more. X-Spy compounds offer industry-leading 3-way detection of plastic and rubber contaminants before they reach your customer and force a recall.
Screen Cleaning Balls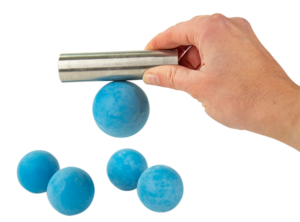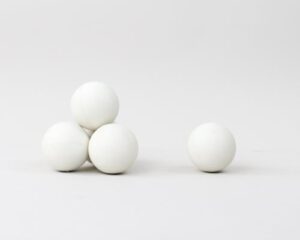 Since you process more than one product and use more than one brand of screener, Siftex offers a varied and unique line of screen cleaning balls. Better Balls are available in our new XSpy X-ray/metal detectable and magnetic susceptible rubber and polyurethane. Siftex also provides industry-leading abrasion-resistant and high rebound specialty compounds at very competitive prices. Let's talk about your volume, packaging, and stock requirements to learn how getting better connected with Siftex can save you money and reduce ball change-over downtime.
BFM Fitting Bulk Bag Unloader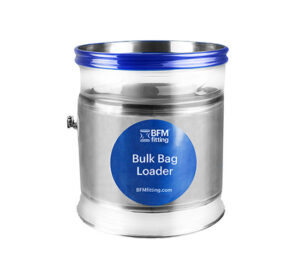 Includes external air fitting that plugs into an 8mm pneumatic air line to inflate super strong & flexible outer layer.
Top of loader simply snaps into a BFM® fitting spigot and features a fully encapsulated stainless steel ring to support lower end.
Inflates in seconds and seals tight on the neck of bulk bag, eliminating product leaks.
Much safer for workers hands as there are no pinch points.
Can be used on bulk bags with or without plastic liners.
Pneumatic air-line is recommended to be set to a maximum of 6psi.
Eversleeve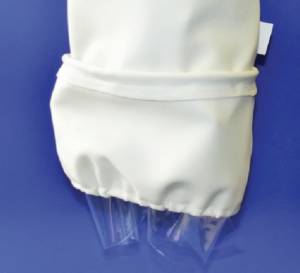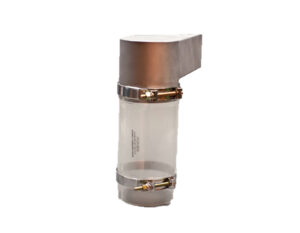 Traditional flexible sleeves may allow product to become trapped between the inside of the sleeve and the outside of the pipe. EverSleeve connectors eliminate this.

Hose clamps at the sleeve bottom and steady product build-up may combine to cut the sleeve material causing leaks and premature sleeve failure. The result is more dust, lost product, more housekeeping and replacement sleeve expense. EverSleeve connectors eliminates this, too.
Corrugated Sleeves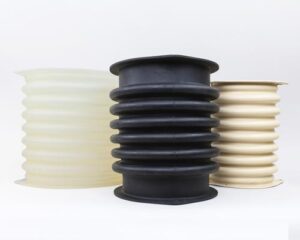 Corrugated Sleeves are the traditional backbone of flexible connections. Siftex offers three standard styles in a variety of lengths, diameters and compounds, including ultra-tough polyurethane.

Looking for improved wear from your corrugated sleeves? For all your vibratory and gyratory machine connections, depend on Siftex for the largest selection of molded corrugated sleeves, especially if you're ready for improved design and longer-lasting materials.
Hi-Flex Hoses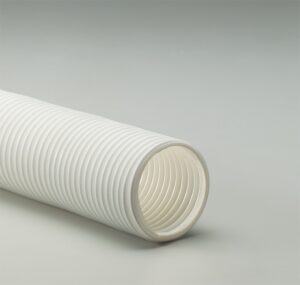 When misalignment and movement are the problem, Hi-Flex Hoses are the answer. They can flex, contract, and stretch to withstand constant vibratory and gyratory motion. Hi-Flex hoses are also puncture, abrasion, chemical, and UV/ozone resistant. There is a Hi-Flex hose for every application and every extreme.
Dotro Catch Cloth

Dotro catch cloths keep your conveyor system and plant floor cleaner and safer. Whether if you are moving dough to the oven or to the cooler and packaging, Dotro catch-cloths feature CAD precise sections for better fit, easier removal, cleaning and rehang. Save time and money with designs for high crumb areas that can be emptied from your plant floor regardless of the conveyor height. Dotro catch cloths feature oil, mold, and mildew-resistant heavy-duty vinyl-coated polyester cloth. Hot-air welded hem constructions provide superior durability versus sewn construction eliminating the risk of thread contamination in your product. Our construction delivers a higher return on your investment.
5,539 total views, 1 views today