ELECON
BUCKET ELEVATOR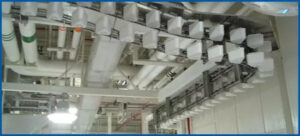 Gough Econ is the only licensed global manufacturer of the Elecon™, the world's only bucket conveyor that can move materials in any direction. No other conveying system in the world is as flexible as the Elecon. In addition to the typical vertical and horizontal movement, the Elecon bucket can make right or left turns. This multi-axis capability is a result of its patented chain design and wedge-shaped buckets. Dubbed as the "go anywhere" conveyor, the Elecon minimizes your system's footprint and can handle virtually any circuit design imaginable.
The Elecon is one of our best known and most versatile bucket elevator designs—and we are pleased with how it helps clients increase their operational effectiveness. No matter what configuration you need, these bucket elevators are engineered to provide solid and robust components that withstand most environments.
SWINGLINK
heavy duty
BUCKET ELEVATOR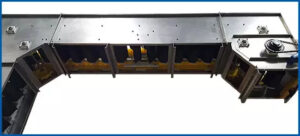 Gough Econ utilizes the most robust construction and components in the industry to ensure the reliability and durability of our Swinglink bucket elevators. The continuous chain and bucket design with overlapping bucket lips contribute to the adaptability of the Swinglink. With the strongest chain in the industry, the Swinglink provides durable, yet gentle, handling of a range of industrial goods.
Gough Econ has been recommending Swinglink products for decades, and for good reason. This equipment handles a variety of products for many different industries and is designed to resist wear and tear, even in harsh environments. Our customers are looking for efficiency, reliability, and confidence that their equipment will provide a good, long-term capital investment—and we know Swinglink to be an exemplary option in each of these categories.
SWINGLINK
food applications
BUCKET ELEVATOR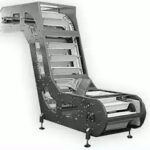 Many of our clients work in the food and powder industries and have unique needs: Ensuring an efficient manufacturing process by eliminating threat to product integrity and risk of unsanitary conditions. We are pleased to offer these clients Swinglink bucket elevators that are designed with gentle handling and sanitation in mind.
Swinglink bucket elevators remain upright throughout the handling process to safeguard the integrity of your product. Smooth bucket surfaces eliminate product trap areas while the clean-in-place capabilities of the Swinglink provide for maximum cleanliness.
Swinglinks are available with carbon steel, stainless steel or plastic surfaces in all product contact areas. They offer the flexibility you require to accommodate your manufacturing needs, yet they are also designed for gentle and efficient handling. Swinglink bucket elevators safeguard product integrity and minimize spilling. In short, they provide our clients with the specifications they need to ensure operational proficiency.
ECON-O-Lift
BUCKET ELEVATOR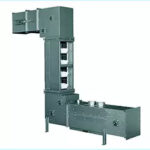 The Econ-o-Lift bucket elevator's robust construction is built for durability and easy installation. It features a collapsing chain and 360-degree discharge with multiple discharge and inlet feeds for maximum flexibility. This bucket elevator can also be designed for food manufacturing applications with food-grade, stainless steel, or plastic conveyor surfaces that allow your company to comply with the regulatory standards specific to your industry.
With the Econ-o-Lift, buckets remain upright throughout the circuit reducing the probability for product spills and allowing the option for multiple discharge points from the lower rung of the bucket elevator. This will help minimize breakage from product discharge drop heights.
Additionally, the buckets feature a trailing curved lip that, when interlocked with the bucket in front and behind, allows the product being introduced into the Econ-O-Lift to flow directly and cleanly into each bucket cavity.
The result is flexible equipment that handles a variety of products for many different industries. For food and delicate products, the equipment is designed for gentle and efficient handling to protect the product and to reduce spillage. Gough Econ's engineers have installed nearly 600 of these units to date and we continue to recommend them to our clients.
BELT CONVEYORS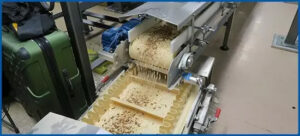 Gough Econ's belt conveyors combine exceptional design and construction for an unparalleled material handling solution. Our range of belt conveyors is designed to provide increased efficiency and a versatile means of handling a wide variety of products and materials. Conveyor options include Flat and Slider Belt Conveyors, Incline Conveyors, Flighted Belt Conveyors and Troughed Belt Conveyors. In addition to these selections, we can custom design a belt conveyor to meet your unique handling needs.
STORAGE CONVEYORS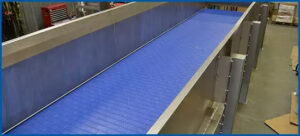 Gough Econ's storage conveyors ensure the safe and reliable handling of your materials from initial product introduction into your process to finished product packaging. Our storage conveyors operate as a buffer between various points of your process by regulating product flow resulting from varying production rates or in the event of equipment shutdowns. These auxiliary conveyors can be paired with our other material handling equipment to deliver a complete integrated system suited to your needs.
CONTINUOUS VERTICAL CONVEYORS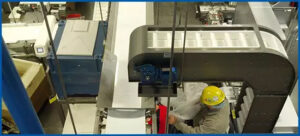 Gough's continuous vertical conveyors can be used to elevate or lower products. This mechanical conveying system provides a smooth, continuous flow of product, and is available in a variety of styles and construction materials.
BELT AND BUCKET CONVEYORS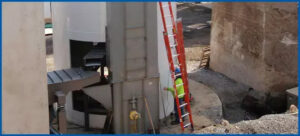 An economical means of vertically elevating or lowering product without concern for product degradation, our belt and bucket elevators transport your materials throughout the entire production process. Other conveying equipment can be coupled with these belt and bucket elevators to provide a fully integrated system for your needs.